Quickly Generate and Compare Freight Online Quotes
Digital Freight Group is a digital freight matching app that generates freight online quotes from multiple vendors quickly and efficiently so you can compare and find the best option.
Get your freight quote online.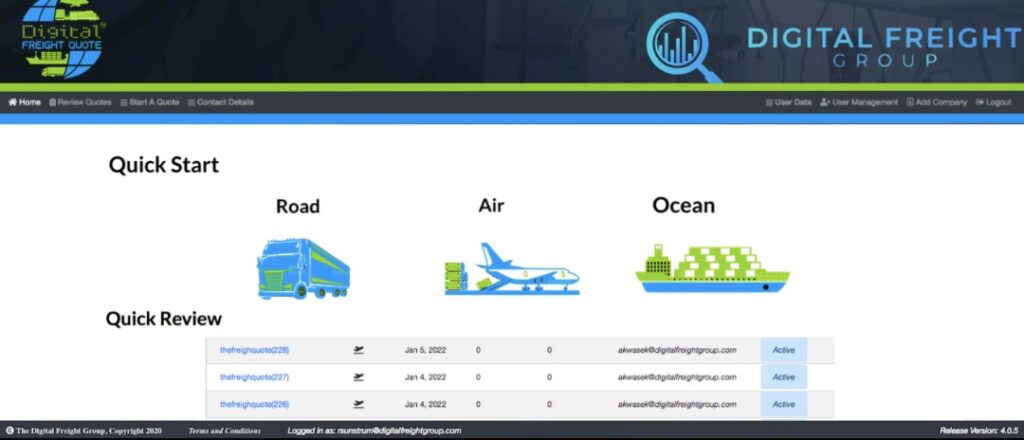 Automate your freight quoting to save time and money!
If you submit a RFQ to 3 of your freight partners, you should expect a 20% – 30% difference between the lowest price and second lowest pricing. While there are many strategies for lowering freight costs for organizations. The one strategy that is tried and tested is, requesting a quote from multiple providers. This can be for Air, Ocean, Road or any type of mode of transport. When you submit a quote request to a freight provider, you not only get a clearer picture of the costs, but they may provide some good intel on the shipment and what to expect. How many times when you submit a quote has your freight provider said something like, "We are entering peak season, you may have a hard time finding capacity?"  
Our software service helps you organize and send freight quote requests to your freight forwards, brokers and asset based carriers. By using Digital Freight Group you build data sets and understand how your freight is moving!
Make Your RFP Process Part Of Your Strategy!
We have customers in all types of industries; Healthcare, Automotive, Manufacturing, Aerospace, Oil and Gas, Heavy Machinery, Consumer Goods etc. If you quote freight with multiple providers, our platform can help you stay organized and save time and money!
We changed over to Digital Freight Group last year. We have never had any issues with the system. If you move freight by Air, Ocean, or Road…you should be using Digital Freight Group. They are awesome to work with!
Digital Freight Group has become a strategic part of our business. Our freight requirements can be demanding, and using DFG's software makes quoting and scheduling a much easier process for the OES Scoreboard team.